GiveCamp is one of my favorite weekends of the year.  With teams focusing on App Dev, Websites, and Salesforce – our team brings together non-profits from across Western Pennsylvania and pairs them with dozens of Salesforce professionals in our region to complete Salesforce projects that better enable them to meet their mission.  Up until this year, GiveCamp has always been an in-person event with lots of new friends made, meals & drinks shared, and building a sense of community that keeps our volunteers coming back year after year.
With the realities of 2020, GiveCamp moved to an entirely online format for the first time, with each team being assigned a Zoom Breakout Room off of our main channel, where they could collaborate and interact.  Taking advantage of Quip, we created a group GiveCamp overview document, with links to each teams Project Plan, Task Assignment Board, Deployment Checklist, and Documentation repository.
The GiveCamp Salesforce team delivered over $75,000 of in-kind services to our 5 non-profits this weekend.  
Teams completed discovery and design on Friday evening (6-10PM), then worked all-day Saturday (9AM-10PM) before wrapping up with final Testing, Training, Documentation, and Deployment on Sunday (9AM-2PM).  All told, our Salesforce Volunteers contributed an average of 20 hours through the weekend; when measured in dollars of impact at a conservative $150/hour for Salesforce services, the GiveCamp Salesforce team delivered over $75,000 of in-kind services to our five non-profits this weekend.
Our projects delivered some cutting edge builds including custom SMS & Email messaging tools, form & payment integrations, a Salesforce implementation complete with Customer Community, and so much more.  Take a look through what we accomplished below!
---

Literacy Pittsburgh
Through one-to-one tutoring and small class settings, Literacy Pittsburgh offers a safe and supportive environment for adults to acquire reading, writing and math skills, prepare for high school equivalency exams, and gain skills to transition to jobs or college. They teach English as a second language to immigrants and refugees, and they connect them to the support services they need to feel welcome in the Pittsburgh community. In their family literacy program, Literacy Pittsburgh helps children develop language and literacy skills with the support of their caregivers, who also have the opportunity to improve their own skills. Literacy Pittsburgh programs have a significant economic impact on the region by taking students from learning to earning and helping them gain economic self-sufficiency. Our students become better parents, workers, and neighbors.
The Build
Literacy Pittsburgh has had to significantly shift their learning model in response to COVID, meaning implementing new remote tools and means of communicating with staff, tutors, and students.  As part of that, they implemented Twilio for SMS messaging capabilities.  They also needed more efficient means of reporting and understanding class, tutor, and student participation across the organization.
The team came up with an innovative approach using Screen Flows, Apex, and a custom object that allows program staff, running on Platform licenses, to be able to send broadcast emails and text messages to their entire class.  With the ability to toggle between message types and then craft their message, the screen flow stores the results in a custom object, where a trigger then sends out the text messages individually via Twilio or Bulk Email operations.
They also added a custom notification so that inbound text messages from students and tutors routed to area coordinators via Keywords & Custom Metadata; new rollup summaries using DLRS to capture family level data related to the Family Literacy Program, Report Charts to provide tutors and staff with easy visibility into student performance, and a custom multi-line edit tool that allows program staff to log attendance and indicate keywords for an entire class at one time, instead of editing records individually.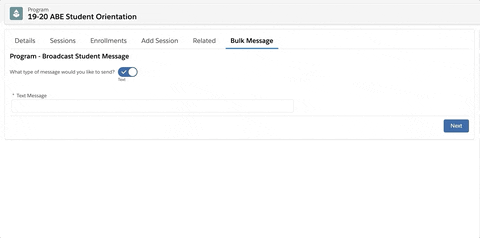 ---
Bloomfield Garfield Corporation
For nearly 45 years, the BGC has been an agent for change in East Pittsburgh neighborhoods, serving as a catalyst for affordable housing, youth education, better employment opportunities, business development, and social justice.  Returning for their third GiveCamp, our volunteers have helped BGC implement Salesforce and add program management capability in their first two years as Campers.
The Build
BGC runs an Employment Program through their East Side Neighborhood Center that focuses on upskilling and finding job placement for their constituents.  The employment program has been ran through a series of spreadsheets, word documents, and other forms, making tracking & reporting a very manual challenge.  The teams goal for this GiveCamp was to replace their 2 powerporints, 12 forms, 16 google sheets, and other documents with a new Salesforce App for managing the Employment Program end-to-end.
To meet the requirements, our team created a series of new custom objects, fields, and automation that allows the BGC team to manage their entire process, from identifying job seekers through their eventual job placement inside of their Salesforce instance – effectively eliminating all of the manual and offline processes that made the program tedious to manage.
Employment Center Application
---
Sustainable Pittsburgh
Sustainable Pittsburgh, empowers decision-making that builds a fundamentally equitable, resilient, healthy, and prosperous region.  Through a series of programs focused on small businesses, restaurants, and communities, they work across the Pittsburgh region to increase sustainability practices; enhanced through their network of CEOs & Government leaders who participate in their efforts.
The Build
Sustainable Pittsburgh has been a long-time Salesforce user, but have not had a dedicated admin for the last 6 years, leaving a lot of organizational cleanup to make their Salesforce org more efficient.  Tracking memberships, campaigns, and capturing leads were very manual processes and managing their sponsorship program required digging through emails to keep track of deliverables.
The GiveCamp team went to work, cleaning up their Click & Pledge integration, removing old forms and development, and improving the integration to automatically link to Campaigns in Salesforce.  MailChimp integration was put into place to sync data between Salesforce & Mailchimp.  4 New Flows & process builders were added to eliminate manual data entry, with updates made to Lightning pages to increase usability, especially around the Sponsorship program, which is taking advantage of NPSP Grant Deliverables to manage items owed to sponsors.
---
Pediatric Palliative Care Coalition
PPCC provides resources & medical professionals caring for children with life limiting illness.  Our healthcare system does not adequately provide palliative, hospice and end-of-life care for youth as most providers & systems are focused on adults.  PPCC exists to educate, advocate, and increase the availability of these services for youth in Pennsylvania and across the country.
The Build
Run by an entirely volunteer team, PPCC relies on Salesforce, MailChimp, FormAssembly, Stripe, and Zoom to manage their organization.  Unfortunately, not all of these tools are connected, so our GiveCamp volunteers worked with the PPCC team to integrate MailChimp with Salesforce, building new FormAssembly Forms with payment integration for donations and memberships, created new reports, list views, and other SF Features, while also providing PPCC admins with training and education on how to manage all their new toys!
---
Footbridge for Families
Footbridge for Families is a secure platform that directs community donations to families facing short-term financial crises. Their goals are to 1.) protect children by relieving the stress that caregivers face in financial crises; 2.) give families an opportunity to ask for the help they need and avoid more costly interventions; and 3.) give donors a clear, trustworthy means of helping their community members' real needs in real time.
Footbridge harnesses the desire of those who seek to give and directs it, as efficiently as possible, to the most time-sensitive financial needs that families face.
The Build
Footbridge needed a system to manage requests from network of partners and connect them with available funds as their current systems were entirely offline.  The GiveCamp team did an entire NPSP Implementation for Footbridge, including creating a public-facing Salesforce Community with screen flows to provide families a guided interview to enter information about themselves, their needs, and have all of that data created in Salesforce for the Footbridge team to process using Cases.  Coupled with a series of custom objects, process automations, and new reports, Footbridge for Families now have an end-to-end means to manage their organization entirely within their Salesforce instance.
Screen Flow in Salesforce Community
From a bunch of spreadsheets to entirely on Salesforce!
---
THANK YOU TO OUR SPONSORS!
We couldn't do this without our sponsors, especially SparkOrange, WorkHard Pittsburgh (WH Digital) & CEI who continue to sponsor GiveCamp year to year.  We are also happy to welcome Hike2 to the GiveCamp family!  Besides providing volunteers, these organizations also provide the GiveCamp team with the funds needed to operate.  With over $100,000 in services delivered between our Salesforce, App Dev, and Website teams this year, we like to think we provide a tremendous return on investment!