Oh, holiday weeks. These last two weeks of the year tend to go one of three ways – you're off and enjoying much deserved paid time off, you're hustling to meet end of year business goals (so busy you aren't reading this post until 2020), or you're "forced" to work because you spend all your PTO earlier in the year and having "nothing" to do while your colleagues are doing option one or two. If you find yourself with some holiday downtime, here are some admin must do's to set your org (and self) up for success for next year.
Take Time to Document
When I filled out my annual review this year, one of the mistakes I noted I made was waiting until the last minute to document my projects. Ugh. Nightmares when you are trying to wrap things up and hand off to support or your client. Maintaining as you go is the best practice, but now that there is some quiet time, document your primary objects, how things are connected (hint – check out Schema Builder), and why things are the way they are. If I dive into your org, will I have any idea what a "Leader Visibility" is if I've never worked with that custom object? No, you're not documenting for the sake of handing your org off to someone else, you're documenting to make your life a wee bit easier. Your future self will thank you.
(I suggest this trail to get your ideas going.)
Optimize
As we start to go into the time where people are making resolutions for health and wellness, think about what that means for your org. You don't have a scale to toss your org onto, but you do have Salesforce Optimizer which can give you some ideas about where to go for org health. Yes, some cool things are coming to Optimizer in Spring '20 release and beyond, but you can still get some really good information about your org with what exists today. (If you don't have time to do this now, put it on your list of things to do before you do any major projects or deploy any packages!)
If you haven't used Salesforce Optimizer, this Trail is for you.
Maintain Your Salesforce Certification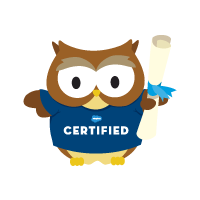 If you're a Certified Admin, please please please make sure you don't let this expire. It is as simple as taking a Trailhead Module (and SQUEE – the Winter '20 modules aren't just questions, they include a HANDS-ON CHALLENGE — my favorite way to learn). Free. Fast. Easy. Don't let these certs expire – make sure you check out the trail now and get it done.
Consider Pro Bono Work, BAM, or Share Your Story
There are so many challenges that can charge your batteries in the Salesforce Ohana. Giving back can come in many forms and since it is the season of giving, what a great time to consider it!
Taking on a pro bono project might be tough when most non-profits are likely super busy or on break after surviving the hectic season, but now would be a good time to reach out and see how you can give back to your community. If you don't have any connections personally or your favorite non profits don't have the time or budget (and psst, they can get NPSP for 10 users at no cost), then check out this Trail on pro bono basics to get your ideas flowing.
BAM! Be a Multiplier. I can't say it enough – we all know people who can really benefit from a change. You probably can list five people right now who want to make 2020 a bigger and better year in their lives. Share the Salesforce journey with them and you never know what lives you might be able to change.
Share your story – whether it is on Twitter, LinkedIn, or reaching out to us with your Accidental Admin story, sharing is truly caring. Here is your chance to inspire others and to allow Salesforce Ohana to help get the word out about your awesomeness.
++
What would you add to this list of ways to survive the quiet times at the end of the year? Share with us via a comment or Tweet – we love to share your ideas, too!