1. Simon's Career Tips
As Accidentals, we all embrace being adaptable, just like Salesforce's Chief Marketing Officer, Simon Mulcahy. This week, the Salesforce blog featured some of his "little career tips that make a BIG impact" – and if these aren't just the perfect way to describe how Accidentals have blazed their trails, I don't know what is. Personally, my favorites are: find a mentor (or a few) and embrace change. Without either of those, I wouldn't be where I am today.
---
2. Celebrating International Women's Day
On Thursday, the world recognized the contributions of women past and present for their power and potential. Salesforce, embracing #EqualityForAll, never fails to encourage women to raise their hands, to have courage, to get out and do it. Their Twitter feed was full of encouraging and inspiring stories about women who are rocking their Salesforce careers.
Personally, I might have brought my whole self to work when I read Gemma Emmett's story – the tears flowed and I had no shame in my emotion game. And then there's our own Kristi, bringing so much meaning to living and trailblazing. These stories make my stressful week of balancing support cases and enhancement requests seem so trivial. Keep blazing, my friends.
Leading the Pittsburgh Women in Tech User Group, I'm all about finding ways to help others blaze trails. I'll be teaming up with Shannon today as we take a breather and talk about making time and saying no more often – good leadership lessons for bringing our best selves to work!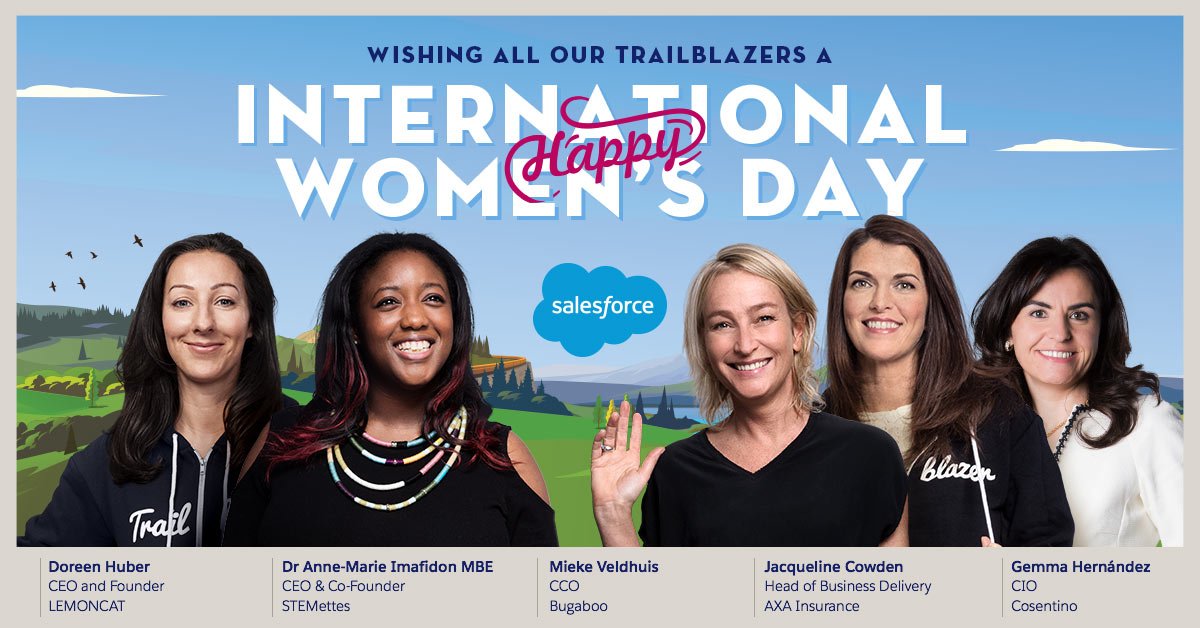 ---
3. AI is Here, But Humans Are Sticking Around
Salesforce Einstein might be delivering more than 1 billion AI-powered predictions a day, but just like with every other revolution, today's technological revolution is going to still require humans to do some work. President of Salesforce Keith Block talked to World Economic Forum about the changes AI is going to bring to the workforce and how we can lead versus being replaced by this revolution.
---
4. Go Salesforce, It's Your Birthday
Nineteen years, nineteen years. From a small apartment to the Salesforce tower, things sure have changed since 1999. This week, Salesforce celebrated 19 years of innovation and blazing trails.
They asked some of their leaders to share their magic moments along the way – goodness, Salesforce has done some powerful things and changed so many lives along through the years. Is there really anything better than knowing we're all connected in this Ohana of unique culture, vision, and innovation?
Cake. Yes, cake. Happy Birthday, Salesforce!